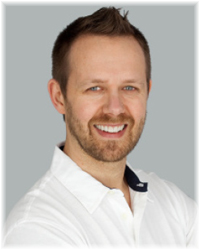 Dr. Dusty Walsh graduated with Honours from Western States Chiropractic College in Portland, Oregon in December of 2002. He has worked in clinics in Seattle, White Rock and Port Coquitlam as well as running his own local house call business. For 10 years, Dr. Walsh worked as the chiropractor for the South Fraser/Langley Rams. Now he is an Advisor of Langleyrams.com.
Dusty has been our Athletes favorite go to guy for therapy since 2005 and currently works out of the Performance Health Group offices in Aldergrove, he is certified in Active Release Techniques® (ART) and with the International Chiropractic Pediatric Association (ICPA).
Dusty is a native of Surrey who has also volunteered his time for the Breast Cancer Walk, Tour de White Rock and various other community events, he enjoys mountaineering, playing guitar, playing all types of sports, and spending time with his family.