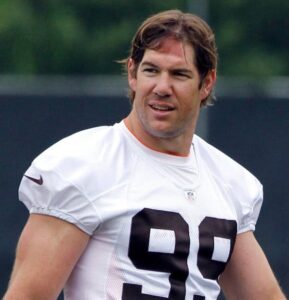 Hi all! My name is Scott Fujita. I'm Advisor of Langleyrams.com from 1/1/2020. I'm a former American football linebacker in the National Football League (NFL), and current Head of School at All Saints' Day School.
Working at Langleyrams.com: Writer, Author, Advisor.
Expertise: Football, Soccer, basketball and track & field…
Highlights
Defensive captain of the Saints defense during the 2007 season and in 2009.
Played college football at California
Vice President NFLPA Executive Committee since 2010.
In 2018: Athletic Director of All Saints Day School, in Carmel, California.
In 2019: Head of School at All Saints' Day School.
Education
I attended Rio Mesa High School in Oxnard, California
Graduated with honors Bachelor of Arts in Political Science with a minor in Business Administration.
Graduated with honors Master of Arts in Education from the University of California, Berkeley.
Experience
Scott Fujita is a writer for Langley Rams covering Football which he lives and works. Scott joined forces with the New York Times, Fox Sports, foxsports.com and WDSU's "Saints on 6" Primetime on the broadcast and sports writing circuit.
Fujita was selected by the Kansas City Chiefs in the fifth round (143rd) of the 2002 NFL Draft. As a rookie, Scott Fujita started 9 of 16 games, recording 63 tackles, 6 passes defended, one sack, and 15 special teams tackles (tied for second on the team). Scott Fujita made 9 tackles against the Buffalo Bills. Scott Fujita had 8 tackles and 2 passes defended against the Seattle Seahawks.
In 2003, Scott Fujita started all 16 games and led the team with 151 tackles (fifth-most in club history), while also registering 4 sacks, 6 passes defended, one forced fumble, and one interception. Scott Fujita had 15 tackles against the Houston Texans.
In 2004, Scott Fujita posted 112 tackles, 4.5 sacks, and 3 passes defended. His devastating hit against LaDainian Tomlinson is remembered as a turning point in the game when Fujita also recovered the ball before it went out of bounds.
In 2005, after the Chiefs selected linebacker Derrick Johnson with its first-round pick and also signed linebacker Kendrell Bell, Fujita asked to be traded. On September 3, Scott Fujita was sent to the Dallas Cowboys in exchange for a 2006 sixth-round selection (#186-Tre' Stallings) and a 2007 conditional selection (not exercised). In three seasons, Scott Fujita registered 326 tackles and 9 1/2 sacks.
In the 2005 season, Scott Fujita played in 16 games and became the strongside linebacker starter for the last 8 contests, after Al Singleton was placed on the injured reserve list. Scott Fujita recorded 58 tackles, 2 sacks, one pass defense, 2 forced fumbles, and 9 special teams tackles. Scott Fujita was declared a free agent at the end of the season.
On March 13, 2006, Scott Fujita signed with the New Orleans Saints, reuniting with former Dallas Cowboys offensive coordinator, now head coach Sean Payton. Scott Fujita was the first free agent to join the Saints when they returned to New Orleans after their year-long absence in the aftermath of Hurricane Katrina.
Fujita was named defensive captain of the 2007 Saints. In Week 1 of the 2008 season, Fujita caught a crucial game-winning interception in the very end against the Tampa Bay Buccaneers. In the 2009 season, Scott Fujita earned a Super Bowl ring as a member of the Saints team that won Super Bowl XLIV on February 7, 2010, defeating the Indianapolis Colts 31-17 to win the team's first league championship.