Ever since he won his 6th Super Bowl, Tom Brady has been pretty universally accepted as the greatest QB of all time.
He's won more than anyone, is tied for the most rings in NFL history with any franchise, and seems to live in the Super Bowl.
For the longest time, winning was all you needed, but football is a team sport. With this in mind, an argument can be made that Aaron Rodgers is the most elite passer of all time with a lackluster team.
People argue that if Rodgers had the help, he'd have easily surpassed Brady. He's statistically the best passer and has an incredible touchdown-to-interception ratio.
Brady has played longer than Rodgers, so this article focuses on averages and records that aren't affected by longevity in order to have an unbiased look at the two.
Quick Information about Brady vs Rodgers Stats
| | | |
| --- | --- | --- |
| | Tom Brady | Aaron Rodgers |
| Teams | New England Patriots (2000-2019), Tampa Bay Buccaneers (2020-Present) | Green Bay Packers (2005-Present) |
| Position | Quarterback | Quarterback |
| Height | 6'4″ | 6'2″ |
| Weight | 225 | 223 |
| Drafted | By the New England Patriots in the 6th Round (199th Overall) in the 2000 Draft | By the Green Bay Packers in the 1st Round (24th Overall) of the 2005 Draft |
Tom Brady Vs Aaron Rodgers Stats Comparison
If we use the Super Bowl title as a yardstick for comparison, no player will ever surpass Tom Brady. The former New England Patriots QB has won more than anyone in the NFL tournament.
In the long run, this factor is critical to evaluate. But football is a team sport, and Aaron Rodgers made his mark as a brilliant passer on a lackluster team.
View more: Randi Martin
Some argue that if Aaron Rodgers has good teammates, he will bring a higher achievement than Tom Brady.
To get an objective view of both players, we will only evaluate the performance stats.
Aaron Rodgers vs Tom Brady Stats Regular Season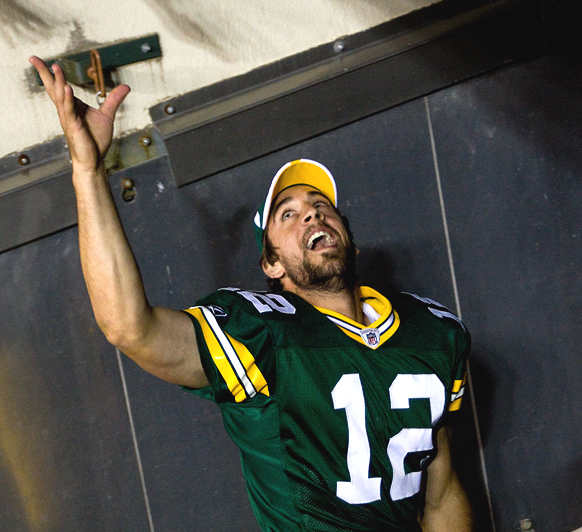 Rodgers is more clutch than his competitor.
This chart is based on the number of years they started at least half a season. We eliminated the years when Aaron Rodgers was substituted for Brett Favre in 2017 or when Tom Brady was substituted and suffered a knee injury.
The table below shows the stats between the two players.
| | | |
| --- | --- | --- |
| Tom Brady | Stats Per Season | Aaron Rodgers |
| 4138 | Yards | 4085 |
| 30.0 | Touchdown Passes | 31.5 |
| 9.9 | Interceptions Thrown | 7.0 |
| 63.8% | Avg Completion Percentage | 64.6% |
| 12.1 | Avg Wins | 9.9 |
| 3.5 | Avg Losses | 5.1 |
| 27.7 | Avg Times Sacked | 37.9 |
Clutch Brady vs. Accurate Rodgers
The stats show that Aaron Rodgers is far more accurate. Rodgers threw more touchdowns, fewer interceptions, and had better accuracy.
Tom Brady won more games, threw for more yards, lost less, and led in both fourth-quarter comebacks and game-winning drives.
So the comparison of the two players based on per season statistics of regular seasons stats doesn't further the argument.
Both QBs excel in multiple areas of importance that aren't necessarily equivalent.
Unfortunately, stats don't further the argument because both QBs excel in multiple areas of importance over the other.
Brady vs. Rodgers Playoff Stats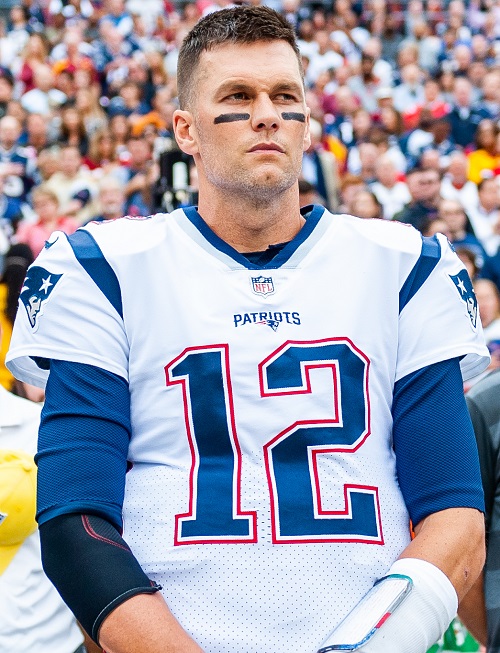 Brady has shown off a higher winning percentage.
How did the two players perform when playing in the clutch? Will they rise up to seize the opportunity or be crushed by the pressure?
Let's refer to the breakdown of playoff figures to get the most appropriate answer.
| | | |
| --- | --- | --- |
| Tom Brady | Stats | Aaron Rodgers |
| 41 | Playoff Games | 18 |
| 30-11 | Record | 10-8 |
| 277.7 | Avg. Yards Per Game | 279.2 |
| 1.78 | Touchdowns Per Game | 2.22 |
| .85 | Interceptions Thrown Per Game | .66 |
| 63.0% | Avg. Completion Percentage | 64.3% |
| 1.76 | Avg. Wins Per Playoff Birth | 1.1 |
| .64 | Avg. Losses per Playoff Birth | .88 |
| 1.60 | Avg. Times Sacked | 2.44 |
Again, the same results are reflected in the playoff statistics as they are in the regular season. While Aaron Rodgers appears to be the far elite passer, Brady simply wins far more often.
Rodgers has a losing record in the playoffs, with three first-round exits out of his eight appearances. Tom Brady has two first-round exits, but 17 playoff appearances.
Of Brady's 16 appearances, six resulted in a Super Bowl championship. The stats do show us some things that are important; Aaron Rodgers carries a playoff winning percentage of 55.5% and a regular season win percentage of 64.9%.
Tom Brady has a playoff win percentage of 73.1% and a regular-season win percentage of 77.3%. Tom Brady has a higher winning percentage in the regular season by 13.6% and a playoff percentage that's higher by 17.6%.
While Rodgers seems to have the better arm, Tom Brady wins far more often.
Aaron Rodgers Vs Tom Brady: Head-To-Head Matchups
Aaron Rodgers vs Tom Brady stats have met four times during their NFL career. The score is in favor of Brady as he has won 3 out of 4 matches.
Let's take a look at the history and outcome of the clashes around them.
Nov. 19, 2006: Patriots Defeat Packers (35-0), Lambeau Field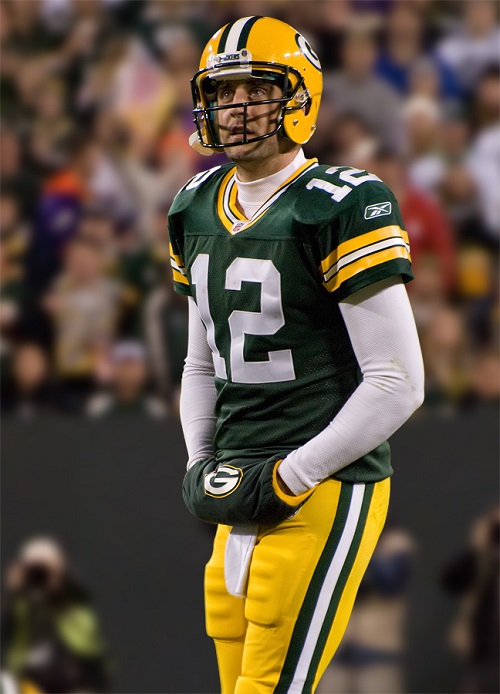 In 2006, Rodgers was an excellent passer.
At this point, nobody could have imagined that Aaron Rodgers would become a great passer in National Football League history.
He is only 22 years old and is being overshadowed by the vast shadow of his teammate Favre.
That afternoon, Aaron Rodgers completed 11 of 19 79-yard passes, no touchdowns with one interception throughout four career games.
The opportunity came to him when Favre injured his elbow at the end of the second game.
Rodgers completed 4 of 12 passes in 32 passing yards and ran twice in 11 passing yards when Green Bay had no answer for the Patriots. Tom Brady, meanwhile, goes 20 of 31 for 244 meters and four touchdown passes.
During 2007, Aaron Rodgers did not have many opportunities to perform. The Green Bay Packers came a long way before losing the NFC Conference championship game in extra time to the Giants.
Rodgers' kick-off didn't come until 2008 when the Packers transferred Favre to the Jets.
Nov. 30, 2014: Packers Defeat Patriots (26-21), Lambeau Field
Aaron Rodgers of 2014 is starting to stand at the peak of his career. He earned his second MVP title of the season, becoming the ninth two-timers player in league history.
The path to becoming a Pro Football Hall of Famer is widening for him. Rodgers' stellar performance gave the Packers a 13-0 lead over the Patriots in the first quarter. New England's strong counterattack turned the game around.
Even so, victory still belonged to the Packers at the last minute, thanks to a late connection from Rodgers to Randall Cobb.
This performance left a deep impression on Tom Brady. Aaron Rodgers finished the game with 368 passing yards and two touchdowns. That number at Tom Brady is 245 passing yards and a pair of touchdowns.
The New England Patriots and Green Bay Packers would have nearly met in the Super Bowl had the Packers not lost to the Seattle Seahawks in the NFC title game in overtime.
The Patriots beat the Seahawks and paved the way to claim the 2014 NFC championship game.
Rodgers also took the Packers to Sunday's NFC championship game in 2014, 2016, and 2019. He is 12-8 in the postseason, and Green Bay is in its second straight Sunday's NFC championship game under head coach Matt LaFleur.
The future Hall of Famers Tom Brady and Aaron Rodgers are waiting for these two players.
Nov. 4, 2018: Patriots Defeat Packers (31-17), Gillette Stadium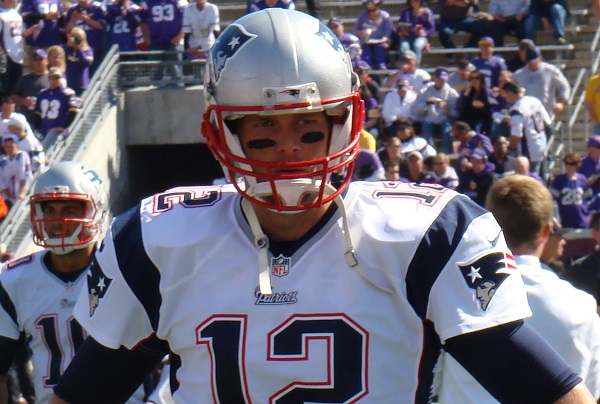 The match in 2018 didn't end with the best result for Brady.
The match between Brady and Rodgers attracted enormous attention.
This Sunday night, football on NBC also invited Michael Jordan to shoot a promotional video before the game and gave away his comments.
Tom Brady, who finished with 294 yards and a touchdown, led two touchdowns in the fourth inning to break the tie. Rodgers lost with 259 passing yards and two touchdowns.
After the subsequent 20-17 defeat to the Arizona Cardinals, the Packers made a new move. They fired head coach Mike McCarthy after five losses.
The franchise ended the season 6-9-1 and went on to miss the second-season playoffs. Meanwhile, the Patriots beat the Los Angeles Rams 13-3 to claim their sixth Super Bowl title.
Oct. 18, 2020: Buccaneers Defeat Packers (38-10), Raymond James Stadium
The Packers started the season with four wins in a row, and everything seemed to be going well until they met the Buccaneers.
In fact, Aaron Rodgers' team led their opponents 10-0 in the first quarter. Sadly, they couldn't score anymore and had to accept the loss with a 28-point difference.
Tom Brady finished 17 of 27 for 166 yards and threw two TDs. On the other hand, Aaron Rodgers had his worst game of the season with two TDs and completed 16 of 35 passes for 160 yards.
Before the match, everyone favored Green Bay. They are the number 1 candidate of the tournament and get the home-field advantage. However, Brady has proven himself to be a seasoned player. With the support of his teammates, the Buccaneers won.
Final Thoughts
In conclusion, Rodgers has a better arm than Brady, but statistically, both are close in many areas. Brady wins much more than Rodgers in both the regular season and the playoffs. Brady has six Super Bowl rings to Rodgers' one.
However, Brady also had a far greater amount of talent surrounding him throughout his career than Rodgers ever did.
Brady has led his team to many more late-game clutch victories, and he was a top four-team 70% of his entire career.
The winner will undoubtedly depend on each individual's thoughts.
Depending on your preferences and the key factors that are important to you, the answer will change. Only one thing is true is that both are the greatest NFL monuments we have ever seen.