McLeod Athletic Park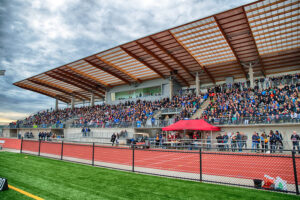 Facility Address:
McLeod Athletic Park
58 Avenue & 214 Street
Langley, BC
Visit Township of Langley for more info.
Find the Athletic park on Google Maps
McLeod Athletic Park is truly a multi-sport facility with the ability to host several different sporting events. The stadium was fitted with brand new state of the art field turf in 2013, and a Jumbotron digital replay screen in 2014.
The McLeod Stadium is considered one of the top amateur sports facilities in Canada and was showcased in both 2012 and 2014 when the Langley Rams hosted and played in the CJFL Canadian Bowl National Championship Game. The stadium has the ability to hold 2,200 spectators but it is estimated that over 2,500 people attended each of the National Championship games.
The "Rams Room" private clubhouse is located within the stadium; it has personal space for each Rams player as well as meeting space, a coach's room and an equipment room. Next to the "Rams Room" are two additional change rooms with showers.
McLeod Stadium has become home of the BC High School Championships and BC Community Championships, which are held there each year.
There is an eight-lane rubberized track, javelin, high jump, long jump, discus, shot put and pole vault. The track is among the best in BC and was utilized in 2010 for the BC Summer Games.
There are also six natural-turf soccer fields and one lit artificial turf field for soccer or football, four tennis courts and a lacrosse box.
McLeod Athletic Park Fast Facts: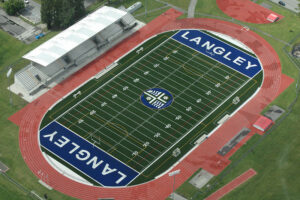 4 regulation softball diamonds
1 baseball diamond
3 non-regulation softball diamonds
6 natural turf fields (soccer)
1 artificial turf field (soccer, football, rugby, lacrosse, field hockey)
2,200 seat stadium
eight lane rubberized track
javelin, high jump, long jump, discus, shot put and pole vault
Lacrosse Box
4 outdoor tennis courts
857 square metres of storage space
Grandstand
4 change rooms with showers plus the "Rams Room"
Langley Minor Football Clubhouse/ Equipment Room
2 Full concessions
Public Washrooms including separate H/C washroom
Seating for 2200
Meeting room (capacity 75)
Enclosed Press Box with public address, scoreboard and Jumbotron video replay systems
1 Medical Room
1 Officials Room
Office Space
Hosting Portfolio
2014 Canadian Bowl CJFL National Championship Game
2012 Canadian Bowl CJFL National Championship Game
2010 BC Summer Games
2009 Canadian Junior Leagues Baseball Championships
Annual BC High School Football Championships
Annual BC Community Football Championships
Annual Langley Cup International Soccer Tournament