The best football shoulder pads are what athletes should not ignore when playing a match. Wrist injuries are a common injury, especially in high-impact sports and collisions such as football. When your shoulder is injured, the shoulder area and arm movement will be difficult to work on continuously, which affects the training and your daily activities. Therefore, football shoulder pads have become indispensable accessories.
What are Football Shoulder Pads?
The football shoulder pad is an accessory that protects the athlete's shoulder which is used in various contact sports such as gridiron football, lacrosse, and hockey. Most modern shoulder pads are made of shock-absorbing foam with a hard plastic cover. The pieces are usually secured with rivets or strings that the user can tie to resize.
To better understand which pad is right for you, it is important to understand all the standard parts of a shoulder pad. 
Rivet: is the object that connects the outer plastic shell to the inner padding and cushion. It places all parts of the shoulder pad in place.

Neck: the pad's opening is in line with the head, usually a comfortable lining or fabric. 

Epaulet: tt is an expanded shell piece that provides extra coverage and protection on the shoulder.

Cup: like the epaulet flap, the cup hangs over the shoulder to provide extra protection. 

Auxiliary / Bias: The second cushion improves absorbency and protection.

Man body cushion: the main inner cushion is located under the shell, to protect and secure the chest.

Belt / Buckle: Available in a variety of styles, from T-hook to straps designed to wrap around the body, hold the pads and place it comfortably.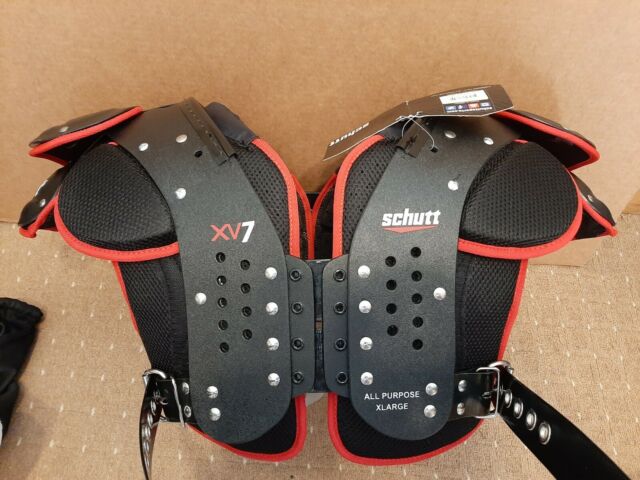 What are Football Shoulder Pads?
How many types of Football Shoulder Pads?
There are 4 types of NFL shoulder pads which correspond to 4 football positions on the field.
Quarterback / Wide Receiver
Pads are designed for mobility, agility, and a full range of motion. These pads have features such as:
Lightweight.

No excessive or heavy epaulets.

Flexible shell and cushioning.

Strategically placed padding.
Running Back / Defensive Back
The pad is designed for agile movements and provides extra protection while running. This pad contains features such as:
Similar weight, flexibility, and range of motion as QB pads.

Padding and cushioning are stronger.

No excessive or heavy epaulets.

Large range of arm movements.
Fullback / Linebacker
Pad is designed to provide serious protection without restricting rapid movement. The features of these pads are:
An Incredibly secure fitting.

Provides reliable protection against strong shocks.

Coating the front link instead of the front lace reduces mid-play adjustments.

Vinyl buckles provide good fit and strength in the arm area but can sacrifice adjustment.

Although heavier than the QB or RB pads, it is light enough for quick movements. 
Lineman 
The pad is designed for maximum protection against the most severe shocks. Its features include:
Heaviest and most durable pads on the court.

Wide mobility keeps linemen on the go.

Streamlined pad.

The sleek profile without additional epaulets could prevent other lines from holding the pads.

Vinyl buckle or elastic straps provide a snug fit that can be adjusted for personal preferences.
In addition to the padding based on the player's position, its types are also classified into two types based on the style. 
Cantilevered soccer shoulder pad
This style is often larger than the other styles. It tends to absorb external force on the pads instead of on your shoulders. It is the perfect choice for football players to tackle and block. 
Non-cantilevered soccer shoulder pad
This style is created in such a way that it does not restrict the movement of your shoulders. With such benefits, it is not uncommon to see young players, receivers, and quarterbacks who like to use this style.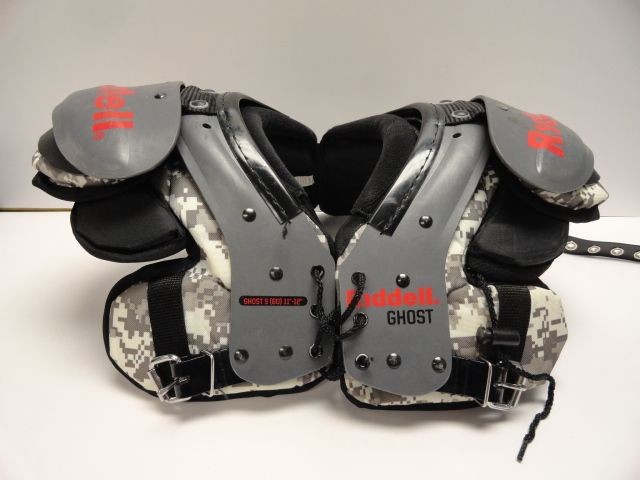 How many types of Football Shoulder Pads?
Benefits of Football Shoulder Pads
Investing in the best football shoulder pad can certainly have many benefits. One of the best things about a pad is that you can play and enjoy football games safely while playing your best. Because it offers strong protection for all your games. What it does is that it absorbs the strong impact that is caused by a hard collision.
That said, it's no surprise that players see it as a shield that can effectively prevent damage in a collision. You can be sure that you will not be left behind while participating in the match as long as your playability remains at a stable level. It can prevent trauma as it absorbs shock and distributes it evenly, ensuring minimal impact on specific contact areas. 
The best football shoulder pads on the market can also provide maximum protection during low profile and thus increase flexibility and portability. 
Another big advantage of a soccer pad, especially with their perfect texture and fit. It offers protection without limiting or restricting your range of motion. It's comfortable and light, giving you a higher chance of winning the game and improving your performance. Pads are also beneficial because they can not only support your performance but also your agility and make you comfortable on the field. 
In short, the benefits of a soccer pad are as follows:
Hold the shoulder joint firmly, avoid loose joints.

Strong shoulder movements are also not injured. 

It limits the strength of the shoulder blades to the ground when players fall during the games.

Protects the shoulder from common dangerous injuries: torn shoulder skin; broken shoulder bones.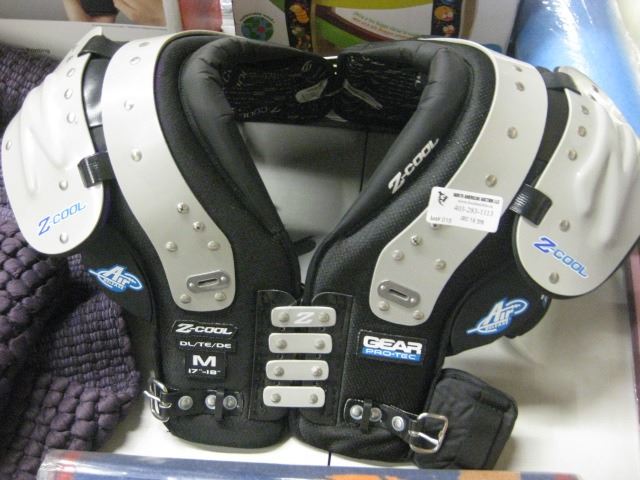 Benefits of Football Shoulder Pad
Well-known manufacturers of the football shoulder pad
The market for the production of the football shoulder pad is diverse. Below are the famous brands of the soccer pad.
Franklin Sports
Franklin Sports is a leading global sportswear brand. Franklin also has close partnerships with other top brands that bring a quality pad to market. 
Schutt
As a leader in the football equipment industry. Trusted by renowned young people, high schools, colleges, and NFL professionals. Schutt's design is innovative with the highest quality technology and style. Schutt products combine the best shoulder pads balance between comfort and performance with protection. Designed for players of all ages and abilities. 
Schutt brand pads or protective gear are the cheapest and most effective accessories on the market. Schutt offers the best football shoulder pads for people of all levels. 
Xenith
Designed for the committed athlete, the low profile, lightweight Xenith pad is capable of performing the full range of motion without giving up protection. 
CHAMPRO
CHAMPRO has been making quality shoulder pads for American athletes for over 25 years. CHAMPRO pads are rated as one of the highest quality manufacturers. 
Riddell
Riddell, a famous name in the football world, has been designing helmets, socks, shoulder pads, and other protective gear for the NFL for decades! Its innovative, professional, and high-quality cushions are used by players of all ages and skill levels around the world. Riddell offers incredible protection and performance. There is a full pad Riddell for everyone as there is a full pad for every player and every level. 
Battle
Football accessories such as helmets or pads from the Battle brand are highly valued for their sports safety. 
Sports Unlimited
Sports Unlimited released its first shoulder pad in 2018 called Prospect (for teens) and Prospect Pro (for adults). And Sports Unlimited is known as one of the brands that produce the best football accessories in the world, such as helmets and pads.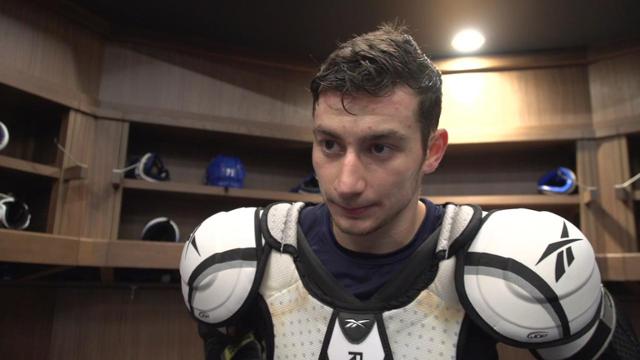 Well-known manufacturers of the football shoulder pad
Best Football Shoulder Pads 2023
Schutt Sports Varsity FLEX 4.0 All Purpose & Skill Football Shoulder Pad
Schutt Sports Varsity Flex 4.0 All Purpose Football is recommended by many elite athletes for those looking for useful adult football shoulder pads and children's pads. Players love its versatility. And it is not surprising that it is suitable for any positions on the football field. 
It boasts perforated with full density padding that makes players comfortable to wear while keeping their feel protected. The padding also includes the use of a highly breathable mesh and vents. With such a feature, it can be said that it is truly designed for comfort. 
Pros
This Schutt Flex 4.0 has an adjustable system.

Very versatile so it is compatible with all players and positions.

Promote a more snug fit.

Promoting a full range of movements.

An antimicrobial solution keeps bacteria and mold at bay.

The heat can be controlled.

Strong and durable with raised corrugation.
Cons
Xenith Velocity Varsity Adult Football Shoulder Pads
It's time to show off your best performance this season with the Xenith Velocity Varsity Adult Football Shoulder Pads. Get protected every time you play with Aware-Flow® shock absorbers that emit air that reduces forceful blows and sudden movements. The floating sternum and spine give you a safe and flexible shock absorber for full portability. A belt-like chest and low-profile design complete the pads.
Pros
Maximum chest and spine protection.

Lightweight supports a full range of motion.

No need to give up protection.

Simple cleaning and maintenance.

Durable and dependable wear.

The fitting system eliminates unnecessary elasticity and straps.
Cons
The price is a bit pricey.
Schutt Sports XV7 Varsity Football Shoulder Pads
Schutt Sports XV7 Varsity Football Shoulder Pads represent a new level of pads for varsity players. Schutt has made the popular XV HD series even more amazing with the new Tactical Arch design. This results in easier adjustment and a more wide range of motion. 
These accessories are recommended for multi positions, especially running backs thanks to the rigid design to protect the back. And they are designed to get you moving anytime, anywhere in a protected state.
The pads are equipped with redundant Energy Locks on the main cushions on top of the multilayer EVA body cushion, which increases safety and helps you improve performance. The perforated body and arches keep you cool on hot air circulation, which means these pads are ready to take you from training camp to championship season. 
Pros
Ideal for varsity athletes looking for the next level of protection.

Adjustable shoulder straps for body safety.

Breathability and comfort.

Support full range of motion.

Easy to wear and use.

Promotes maximum versatility.

Suitable for several positions.
Cons
Schutt Sports XV HD Varsity Football Shoulder Pads
If you are looking for high-quality football shoulder pads, we recommend the XV HD football shoulder pads from the famous Schutt brand. Many gamers prefer the high-density EVA foam in this pad because they find that it gives more durability, air-flow and shock absorption.
The use of high-quality materials helps to increase the range of motion of the pad. Schutt Sports XV HD Varsity is one of the best NFL shoulder pads for receivers.
Many players are also very impressed with the smoothness and lightness of this product. While it's lightweight, it retains the ability to help you perform professionally on the field. 
Pros
Supports high performance.

Air-flow thanks to raised corrugations.

Great impact absorption.

Keeps players comfortable.

Favors lightness when it comes to attaching accessories.

Promotes a good range of movement.

It has pre-drilled holes for accessories. 
Cons
This is not a good option for players with small physical shape. 
Xenith Element Skill Varsity Adult Football Shoulder Pads
If you are looking for the new best football shoulder pads, Xenith Element Skill Varsity Adult Football Shoulder Pads offers an ideal option with a high level of protection, comfort, and versatility. 
The pads element is designed as a lightweight and low profile solution for a wide variety of football fields. It is one of the lightest products in history that the brand has produced, so you can enjoy complete freedom of movement and more comfort. The product can be further customized with clavicle football bike shoulder pads and detachable pads. 
The lightweight protection of these pads definitely suits you. They are designed to support the athlete's commitments, while their low profile helps the player move with full protection.
Pros
Fits smoothly with the body.

Is a very reliable product.

One of the best NFL shoulder pads.

Very durable.

Super lightweight.

Easy to clean and maintain.

Free movement support without restrictions.
Cons
The price of this type is a little bit expensive compared to other products.
Schutt Sports Varsity AiR Maxx Flex 2.0 Football Shoulder Pads
Schutt AiR Maxx Flex 2.0 shoulder pads are also recommended by many elite athletes. It is considered by many to be the best shoulder protection for quarterbacks and wide receivers as it offers full protection thanks to the aid of its backplate and small arch cut.
This design not only provides protection but also ensures maximum range of motion and flexibility. This gives you the confidence to do well on the field. And many athletes are also impressed by the open cell foam construction on this pad.
This structure is made up of small parts that can absorb air. It's very useful because it makes collision reception and handling more efficient. Players are also excited because it is small and light in design. 
Pros
Players now can enjoy a customized fit.

Provide full protection for quarterbacks and wide receivers.

Favors full range of movement.

Very flexible.

Have open-cell foam. 

Tiny chambers help handle hits.

Support running and jumping.
Cons
It takes a long time to put it on.
Champro Youth Scorpion Shoulder Pad
Champro Youth Scorpion shoulder pad adopts a cantilever design and distributes blows on the player's shoulder with a shockproof polyethylene structure, resulting in excellent strength and durability. 
The pads maintain the correct shape and structure after the game, so you can continue to use them for long periods. The pad is made of hardened steel springs that can absorb even the heaviest shocks. Another great feature of this model is a simple use system that gives young players complete freedom in high school matches. The strap can be easily removed without asking for help from others.
This is a great product for players on a budget who want high quality at a reasonable price. 
Pros
Pre-drilled holes allowing players to customize.

Available in 7 sizes, suitable for players weighing up to 170 pounds.

Very safe and suitable for many people.

Has good elasticity to make players feel comfortable.

Very affordable price.

One of the

best football shoulder pads reviews.
Cons
It does not have the same modern features as other expensive shoulder pads.
CHAMPRO AMT-1000 Varsity Football Shoulder Pad
CHAMPRO AMT-1000 Varsity Football Shoulder Pad has a low profile design with a cantilever construction that allows wider movement without compromising the protection. These best shoulder pads are also very versatile which means that players of any position can use them from the lineman to the receiver. 
Free movement is essential in any position, which is why this model is so versatile and features rotatable connectors on the front and back that allow the padding to move and synchronize with the player. It makes the use of the pads more natural and comforts you during the most intense game moments.
Pros
Take protection very seriously.

Safety thanks to the padded epaulets.

Users can customize.

It is very easy to clean and maintain.

Available in 7 sizes for all players.

Perfect pads for those who do not want to pay too much.
Cons
This pad is sometimes uncomfortable.
Adams USA JR200 Youth All-Purpose Football Shoulder Pads
Equipping the Adams USA JR200 Youth All-Purpose Football Shoulder Pads is also one of the best ways to protect football players. What most players love about this product is that it has a good breathable cushion. This means you feel good and cool, even when you wear it in the heat. And no matter what the weather, you do not feel uncomfortable.
In terms of design, it includes a dual-density padding system with an EVA-impact foam layer for maximum protection, while a soft foam layer provides a snug and comfortable fit. It promotes full movement with the help of its narrow forehead. You can adjust it to make sure you're in the right shape during every match. 
Pros
Suitable for all positions.

Well-ventilated.

Can treat severe physical effects.

Promotes the full movement thanks to the narrow front arch design.

It's easy to adjust to fit.

It is very easy to attach the accompanying accessories. 

The prices are very affordable.
Cons
There are some complaints about its size.
Gear Pro-Tec Z-Cool Youth/JV Shoulder Pads
Many gamers are completely convinced by Gear's best football shoulder pads. Most users rate the Gear Pro-Tec Z-Cool product because it is very light and completely versatile. Users are impressed with the ability to provide personal comfort and fit. 
A more individual fit is also guaranteed by these removable pads and an adjustable neck, waterproof, and air release clavicle. You will also love the patented moisture transfer technology used in this product. This technology dries the pad for 3 hours after playing or performing. In particular, it uses the Gear Pro-Tec Z-Cool moisture control system, which works by expelling hot air circulation and then drawing in cool air. 
Pros
Gear Pro-Tec Z-Cool is totally flexible for all positions.

Can provide a comfortable and personal fit.

Lightweight and adjustable.

It has a good  Z-Cool moisture management system. 

The best

NFL football shoulder pads

for linemen.

Excellent shock resistance and force absorption.
Cons
Gear Pro-Tec Z-Cool does not work for those who are in skill positions in the field. 
Frequently Asked Questions
Why are these types of football shoulder pads smaller today?
Most football shoulder pads used by adults in professional competitions are getting smaller for a few reasons. First, recent technological advances are making soccer shoulder pad to be smaller. Manufacturers can produce more elastic than the previous version. That is why the soccer shoulder pad is smaller today. 
How long does a football shoulder pad last?
It all depends on the quality of the product because a cheaper low-quality soccer shoulder pad has a less long shelf life and vice versa. Usage also plays an important role, because the more times you wear the pads, the more worn they become. 
On average, shoulder pads have a lifespan of about a year. A low-quality product can take about half the time, but it's not for everyone. Nowadays, cheaper alternatives are also used for better quality materials, which allows them to last longer. 
How do I choose the right size?
Finding the right size for the best football shoulder pads may seem daunting at first, but the process is pretty simple. The first thing to do is measure yourself. You need someone to help you as measuring yourself can give inaccurate results. And you can also contact us directly for specific advice.  Once you have all these numbers, you can start looking for your product. Each manufacturer has its own size chart that shows which size best fits your chest and shoulders. 
How much do football shoulder pads weigh?
Football shoulder pads come in different weights. Weight generally varies depending on your position in the field. If you are a lineman or linebacker, most of your shoulder pads weigh about 6 pounds. On the other hand, wide receivers and tailbacks will have lighter and more flexible pads, usually around 3 to 5 pounds.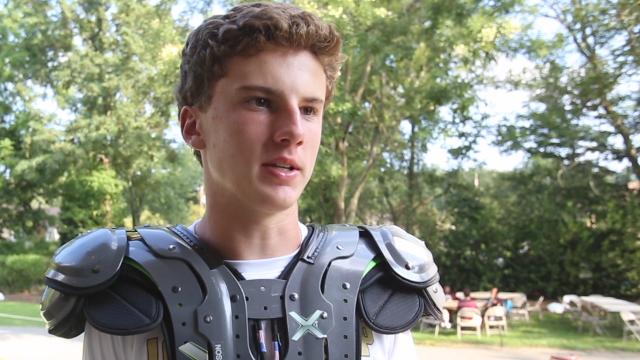 How much do football shoulder pads weigh?
Where can I buy football shoulder pads?
You can buy football shoulder bags at sporting goods stores. If you want convenience, you can order online to have it delivered to your home. When you shop online, make sure that what you buy is authentic products and they are suitable for you. You can also contact us directly for the best advice. 
How much football shoulder pads cost?
The price of a real football shoulder pad is determined by the brand and features you choose. The type of shoulder pads you decide to buy based on your game position also plays an important role in its final price. Compare the prices and features of different shoulder pads to make sure you are buying the right one.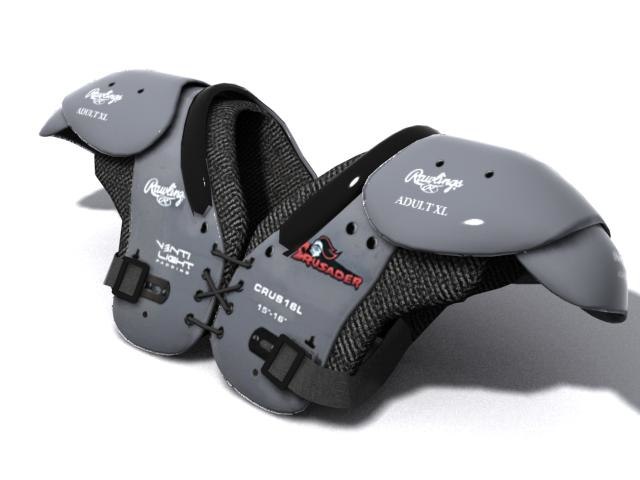 Frequently Asked Questions
Conclusion
The article has just shared the best football shoulder pads for you. It is an important football accessory that every player needs. It will help you get rid of injuries and also help you in your game performance. Now with football shoulder pads, you will do your best without having to worry about injuries. And the result of the match will be amazing.
Why Trust Langley Rams?
Langleyrams.com is a prestigious address that specializes in football. We have a team of consultants who are experienced professionals with many years of experience on the football field. In particular, Scott Fujita, the senior advisor, has worked in many different roles on the football field for nearly 20 years and has achieved many impressive achievements. Fujita will advise you on the best way to choose the best football shoulder pads or other accessories to minimize injury and maximize your gaming potential.